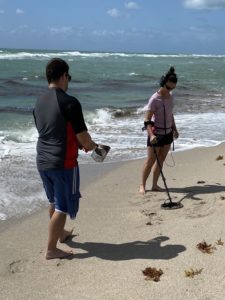 If you're interested in learning how to use a metal detector, join me for a lesson or group adventure! 
Your metal detecting lesson or group adventure will include the basics of how the technology works, the strategies for finding objects, and guidance to find things on your own. You can use one of my detectors, so that means no major investment for you! Then if you really like it, I can give you tips and advice for making a purchase based on the conditions you'll encounter in your home environment.
Lesson Cost:
$100 per hour
Locations:
I will recommend a location based on your preferred detecting style and your driving/travel distance. If you have a location in mind, please indicate in the form below and I will let you know if it's legal to detect!
Schedule:
Generally available in afternoons during the week and on weekends. We will determine the best date and time after you reach out. Submit the interest form below to get started!