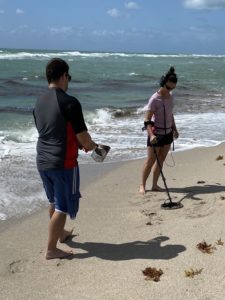 If you're interested in learning how to use a metal detector, join me for a lesson! 
Your metal detecting lesson will include the basics of how the technology works, the strategies for finding objects, and guidance to find things on your own. You can use one of my detectors, so that means no major investment for you! Then if you really like it, I can give you tips and advice for making a purchase based on the conditions you'll encounter in your home environment.
Lesson Location:
Richardson Bay Audubon Center & Sanctuary
376 Greenwood Beach Road
Tiburon, CA 94920
Lesson Cost:
$100 per hour
Schedule:
Lessons can be scheduled Monday through Friday starting as early at 9 am and starting as late as 4 pm
Submit the interest form below to start scheduling your lesson. Your date of choice will be taken into consideration, but cannot be guaranteed until confirmed.