Tonight I found a shirt on Etsy that reads, "Beach better have my money."
When my sister and I were kids, Dad took us out in the yard sometime in the spring with a white spaceship on a stick. He showed us how waving it over the ground in a swinging motion caused it to occasionally beep like crazy. That's when you've found something metal in the ground below.
Whoa.
This was an amazing discovery for me. There's junk buried in our own yard. I already had a fascination with history, so the idea that the land our home sat on could be filled with treasures from another time was thrilling. We found a shotgun casing, Mercury dimes and wheat pennies, and a tray full of metal junk. Cans, nails, keys, steel bits and who knows what else. I was hooked.
Have you ever seen a penny that was clearly hit by a lawnmower?! It's life-changing.
I kept every bit of that junk for years and years. Then growing into a teenager and young adult seemed to suck the fun out of life in favor of some idea that I needed to focus on finding a college, career, and family. Somewhere along the way, I recycled all the junk in my metal tray and put the useful coins back into circulation.
It feels so sad now! It was many years before I settled into my adultness enough to revive all of the fun activities I enjoyed as a kid.
On March 24, 2012 I bought a Bounty Hunter TK4 Tracker IV Metal Detector and took it into an empty commercial lot for sale in downtown Chicago. It was a big open field next to a Target store and yes, technically I was trespassing. I found nothing but trash, but I felt that same excitement I did as a kid and learned the beeps of my new detector.
Eventually I worked up the courage to be seen on a public beach in Chicago and I found an army of beer bottle caps, can openers, and a coin or two. I traveled with my detector to my parents' new home, to a friend's house on a farm, and enjoyed digging up odd little relics and yes, a bunch of trash.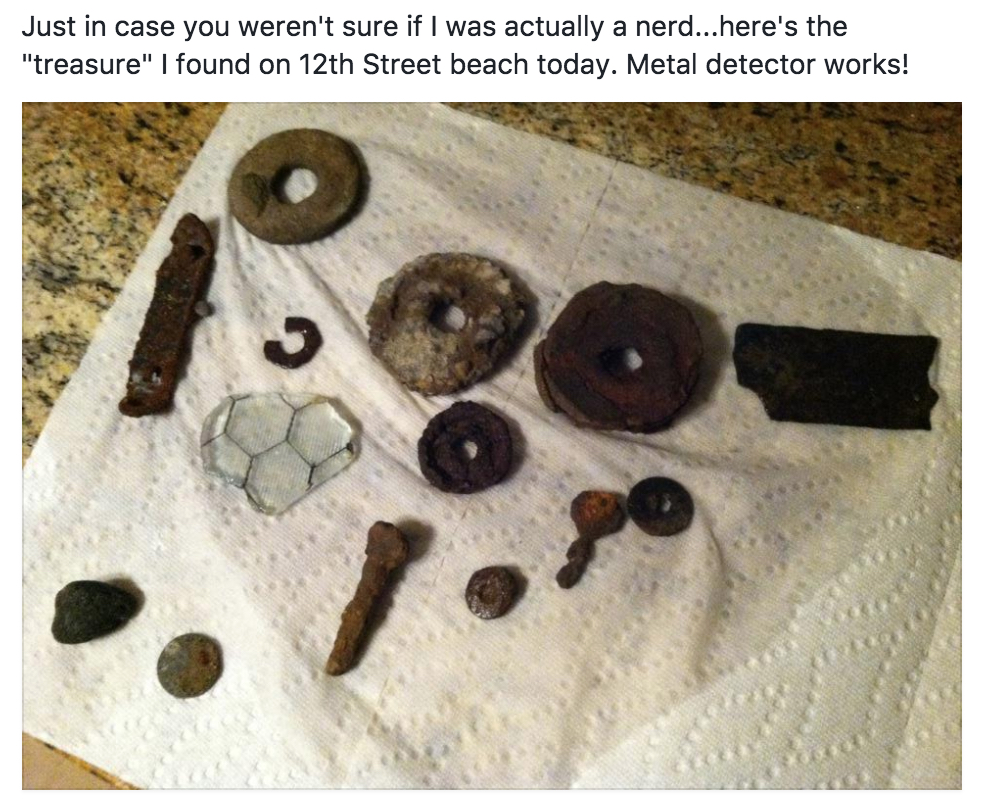 In 2017, I moved to a beach on the Atlantic coast and I can metal walk as often as I want. After Hurricane Irma (September 2017), I cleaned up the hazardous trash that littered the shoreline along with giant mounds of seaweed and coral. Every time I go out, I'm bound to be seen by someone and I always worry they have a negative impression.
"Oh…there's some crazy person thinking they will find pirate gold on the beach…[eyeroll]."
That's a bit of the stereotype that I fear. It's that spaceship on a stick, trash belt, headphones, and all-around nerdy look that we just happen to have. But I'm not out there because I think I'll discover Atlantis. If you haven't done it, it probably sounds really silly. I've seen skeptics turn from scoffing at a distance, to trailing my every move and getting excited when I start to dig.
Part of the purpose and unwritten code is to clean up and remove the hazards and trash that we find on the beach. Especially for someone like me with a detector that doesn't distinguish between gold and ferrous metals, I basically dig it all! I find it pretty interesting even if it is a dumb Budweiser can. Nails and boards with super scary rusty screws are a common find. It's my beach too and I certainly don't want to step on those things!
I have a feeling this activity is due for a comeback. (Has it ever really had a heyday?) I would welcome the understanding it might bring for a pretty harmless activity for somewhat nerdy people.