Jillian contacted me about her engagement ring that went missing on the beach over the weekend. She had a great idea of where it might be and was able to direct me to the probable location.
She also took the initiative to call the lifeguard tower, local beach cafe, and anywhere else she could imagine it may have been lost. Smart!
I hit the road with my trusty Minelab metal detector and created a search grid on the beach. I like to use a "narrowing" approach when the area is fairly large. I marked off a perimeter and did some diagonal crosses and W patterns near the likely spots first. For example, she mentioned sitting fairly close to the dunes, but not on them. The dunes create a natural upward slope "chair" when sitting on the beach, so it would make sense for someone to set down a bag on the slope and have it tip over.
Within about an hour and a half, after pulling up every pop tab and piece of aluminum trash on the planet (at least that's what it felt like!), I finally found her lovely gold diamond engagement ring! What a dazzler!! The bright sunny day made it sparkle. I let out an audible "YES!" for an audience of no one! But it was still thrilling.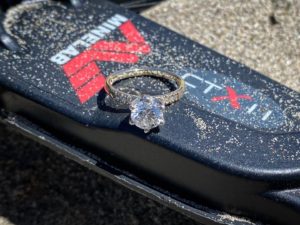 I called her right away so she could breathe a little easier, and we met up later that evening to get it back on her hand where it belongs.
I enjoyed getting to know the happy couple and I wish them well on their upcoming wedding and travels. I'm glad they found The RingFinders and my website Geekybeach.com so I could help, and so happy it turned out positive.
Returning a special item is a great feeling and it's a big part of what many metal detectorists enjoy about the hobby. Have you ever lost a valuable item? Be sure to contact me if you need help!